---------------------------------------------------
DISTINGUISHED SPEAKERS 2020
The Economic Club of Sheboygan hosts four speakers in a calendar year. The information to the right reflects the list of speakers for the club's calendar year and holds additional information about the speaker and the topic they'll be speaking about.
Members must login in order to take full advantage of the features on this page.
---------------------------------------------------
PRESIDENT DONALD TRUMP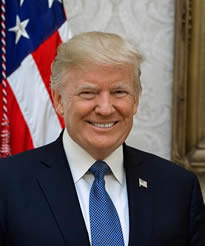 President Donald J. Trump is the 45th and current president of the United States.
The economic policy of the President Donald Trump is characterized by individual and corporate tax cuts, efforts to repeal the Affordable Care Act, improved trade policies, immigration reform, deregulation focused on the energy and financial sectors, and responses to the COVID-19 pandemic.
The economy came roaring back to life under President Trump. The stock market hit record highs, helping more Americans build wealth and secure their futures. Through needed tax cuts and trade reform, the Administration brought jobs back to the United States. President Trump helped U.S. workers by expanding apprenticeship programs, reforming job training programs, and bringing businesses and educators together to ensure high-quality classroom instruction and on-the-job training.
The economic policies of President Donald Trump have a more conservative approach.
President Trump announced an "America First" economic strategy in his January 2017 inaugural address: "Every decision on trade, on taxes, on immigration, on foreign affairs, will be made to benefit American workers and American families." The speech included references to infrastructure and military investment, securing the borders, reducing crime, reducing the trade deficit (e.g., "bringing back our wealth"), and protectionism (e.g., "bringing back our jobs"). A central theme of his speech, "American carnage" referred to "rusted-out factories scattered like tombstones" and those "millions upon millions of American workers left behind" by a political "establishment" that "protected itself, but not the citizens of our country."
Wednesday, October 14th 
11:00 A.M. ET - 11:45 A.M. ET